Oxygen XML S1000D BREX Validation
Over the course of an S1000D Project, it is vital to ensure you have a system in place to validate your Data Module source data against each and all of the following:
S1000D Issue Schema/DTD
Government level Business Rules Exchange file (BREX)
Prime contractor provided Business Rules Exchange file (BREX)
Local Business Rules Exchange file (BREX)
OASIS CALS Table
A good quality S1000D Common Source Database (CSDB) will usually validate your source data but what if your project hasn't yet migrated into a CSDB.
Oxygen XML S1000D Validate Framework
Docuneering have developed an Oxygen XML S1000D Validate framework to batch validate an entire folder of S1000D source data. Regardless of whether you have just received a new batch of Data Modules from your customer or if you are about to send the latest batch back to your customer, it is important to prove the data is valid before you proceed.
It doesn't matter if your programme has multiple S1000D BREX files to comply with. We have developed a simple XSL-Transform process to convert all of your BREX files into Schematron files for XML validation. You can then configure one or all of the Schematron files in Oxygen XML to give you the necessary levels of BREX checking.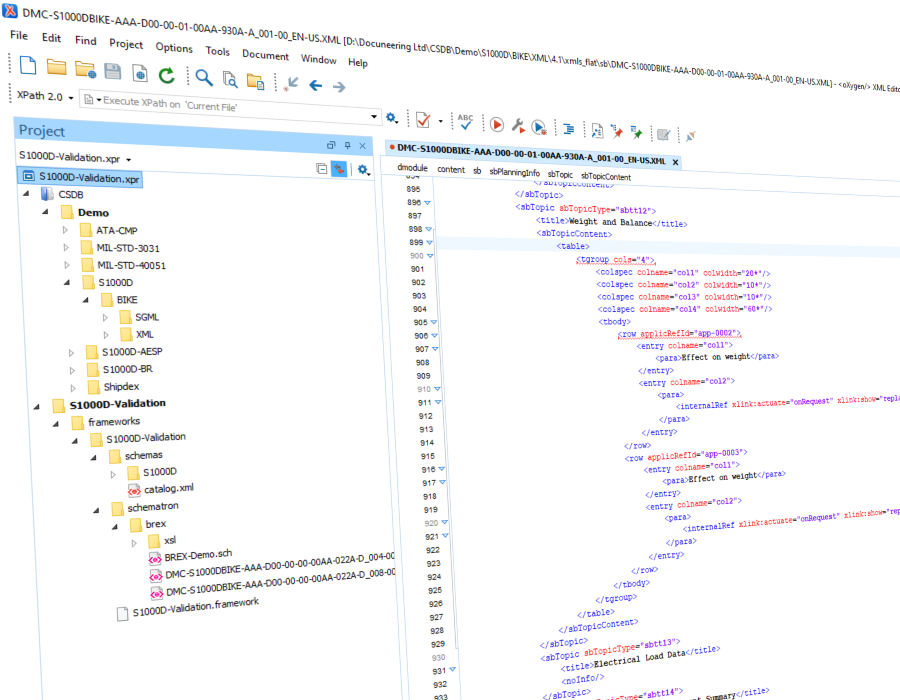 A view of our Oxygen XML S1000D Validate Framework in Oxygen XML Editor.
---
Assisted Start-up
Docuneering can provide an Assisted Start-up for this product.
Assisted start-up is a customer-centric blend of product setup support, initial framework familiarisation and a customer specific workshop to ensure you are up and running.
For more information, please...
Get in touch
---