Products
Authoring
Publishing
Printing
S1000D XML to HTML5
With "Web Delivery" to places like the UK Restricted LAN Interconnect (RLI) network becoming more and more common, then the requirement to create standard HTML5 output from your S1000D XML becomes an important consideration.
S1000D v4.x - HTML5 Transformation Stylesheets
Docuneering have created a HTML5 Transformation process to convert your S1000D v4.x source data into HTML5. The process uses a language file for all generated text and the general layout can be customised with the included CSS stylesheets.
Sample HTML5 output is provided below...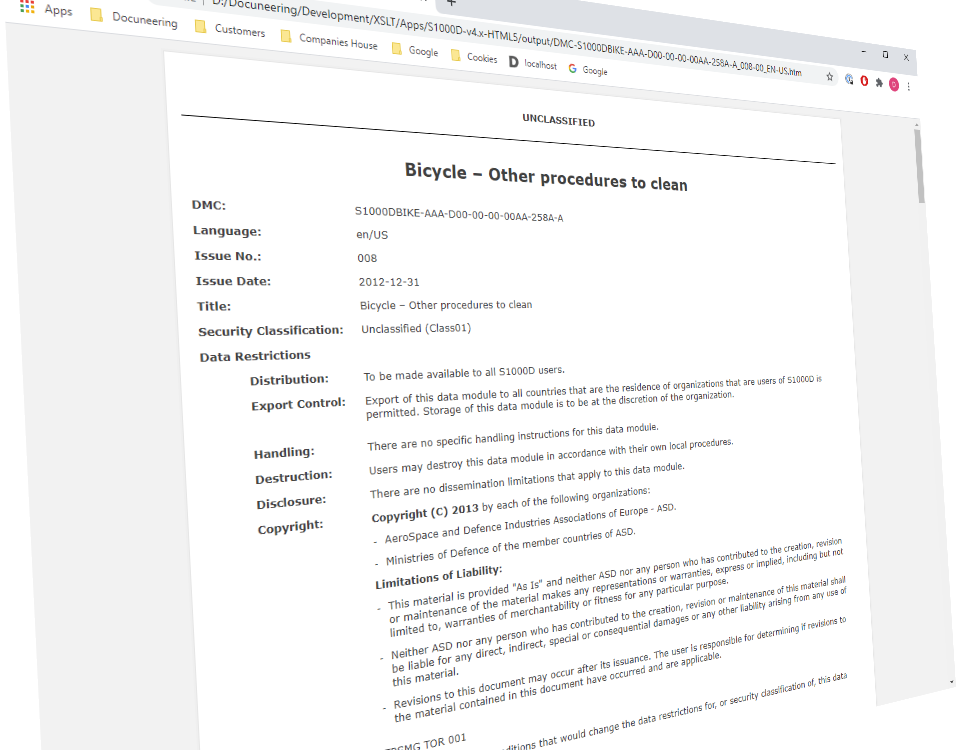 Supported doctypes
The Docuneering S1000D v4.x - HTML5 Transformation Stylesheets support the following doctypes...
appliccrossreftable
crew
ipd
schedul
brex
descript
prdcrossreftable
wrngdata
condcrossreftable
frontmatter
sb
Pricing plans...
We aim to make our pricing as simple and as transparent as possible. If you have any questions or would like to discuss some custom pricing options then please get in touch.
Get in touch
Prices above exclude VAT, which is charged at the standard rate.
---
S1000D v4.1 Sample Files
As you will no doubt appreciate, the S1000D Specification has many versions and each version has many doctypes. If you would like to discuss a specific version or a specific set of doctypes then please get in touch.
Get in touch
---
S1000D Descriptive Data Modules
---
S1000D Illustrated Parts Data (IPD) Data Modules
---
S1000D Procedural Data Modules
What about Authoring?
As well as our S1000D Vendor-Neutral Data Module print stylesheets and our "full-fat" S1000D Publication Builder, we also have a few options for the Authoring process. Whether you're working with S1000D Legacy SGML source data or you need "XML Web Author" capability, at Docuneering, we have a solution to meet your requirements.
S1000D Authoring