Products
Authoring
Printing
Publishing
S1000D SGML Authoring
Some of the more mature Aerospace & Defence programmes use early version of the S1000D Specification. S1000D Issue 1.7 through to Issue 1.9 (previously called S1000D Change 7 through to Change 9) were all based on SGML Data Modules (DM). Since S1000D Issue 2.0, the source DM's could be either SGML or XML while S1000D Issue 4.x and beyond are all pure XML.
Arbortext Editor Authoring Stylesheets (FOSI)
If your project is using any of the S1000D Legacy SGML doctypes then our Arbortext Editor/Styler Authoring Stylesheets can be used to get the Authoring team up and running.
---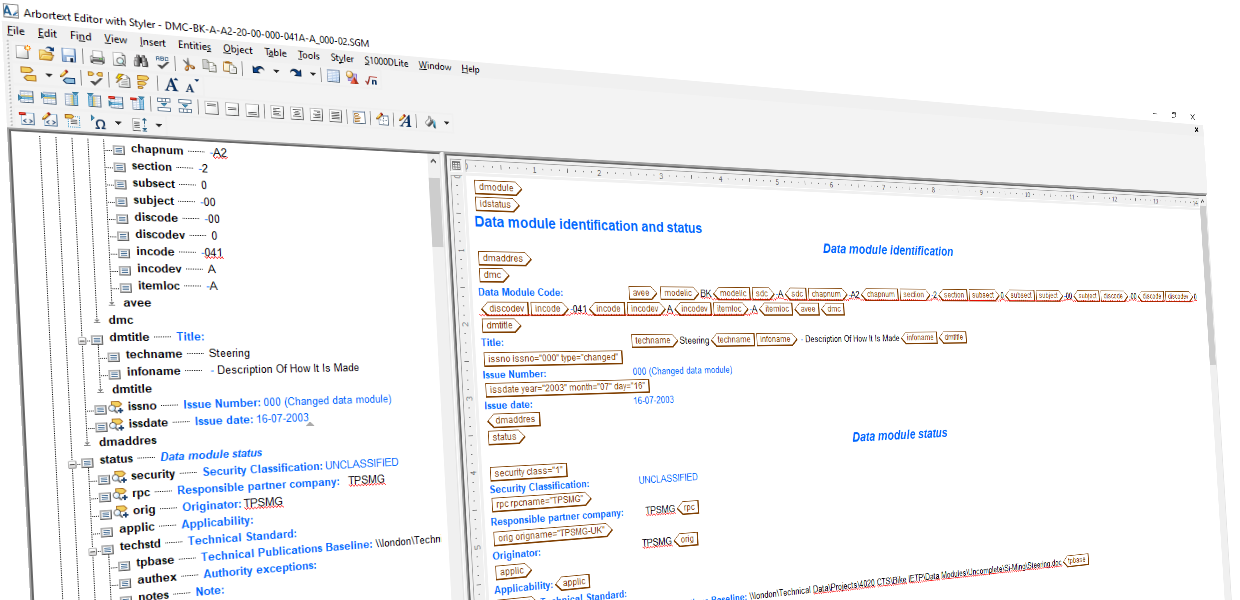 Supported doctypes
S1000D Issue 1.7 through to 2.3
airfault (1.7 - 1.9)
fault (2.0 - 2.3)
ipd (1.7 - 2.3)
process (2.0 - 2.3)
wrngdata (2.0 - 2.3)
aircrew (1.7 - 1.9)
crew (2.0 - 2.3)
prdcrossreftable (2.3)
schedul (1.7 - 2.3)
wrngflds (2.0 - 2.3)
brex (2.2 - 2.3)
descript (1.7 - 2.3)
proced (1.7 - 2.3)
techcondcrossreftable (2.3)
Pricing plans...
We aim to make our pricing as simple and as transparent as possible. If you have any questions or would like to discuss some custom pricing options then please get in touch.
Get in touch
Single User

£199.99 GBP

Annual subscription

Supports: S1000D Issue 1.7 thru 2.3
Ongoing updates
Single User

£499.99 GBP

Perpetual licence

Supports: S1000D Issue 1.7 thru 2.3
12 month updates
Prices above exclude VAT, which is charged at the standard rate.
What about print?
We understand that Authors can also need a physical PDF file for QA review by a Subject Matter Expert (SME) and/or submission to an Equipment Sponsor for final sign-off and approval. With our Docuneering Arbortext Editor combined screen and print FOSI file, an Author can open a Data Module in Arbortext Editor and create a PDF file by selecting "Print Preview...".
S1000D Printing